'Tis the season of BBQ and patio sitting…so let's give you something pretty to look at while you're out there! Hands up if you're more than a little intimidated by the thought of designing and making your own patio planters. If you raised your hand, we are here to help. Did you know that it's often SO MUCH CHEAPER than buying your planters ready made? It's true. If you're struggling for ideas and how to get started I highly recommend checking out www.provenwinners.com; they have hundreds of "recipes" for hanging baskets, and planters. They tell you everything from what size of planter you'll need, to what plants to buy, to where to put them in the container. Easy peasy lemon squeezy. I thought it would be fun to share one of my favourites called "Outdoor Elegance". I love it because it's timeless and versatile; it goes with almost any style/colour of door. The original recipe calls for tall grasses as the centrepiece but this year I made mine with an evergreen dwarf Alberta Spruce because sometimes I like to get a little crazy, you know what I mean? Don't be afraid to take the recipe and make it your own. Here's how to do it:
Click on the images to enlarge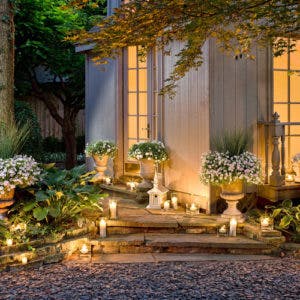 We love our friends at Cedar Rim and they stock all kinds of Proven Winners plants for all of your gardening needs; they also have a huge variety of containers for you to choose from. When you stop in, tell them Lindsay & David say hello.