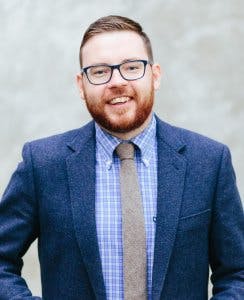 I discovered David Smith at Inman Connect 2017. I was so inspired by the presentation he gave, The Advocate Agent. I will embed that video below if you'd like to see it.
Now, this hashtag chat will be a little different… David's not on Twitter! But, I didn't want to not recognize an agent killing it with social media simply because he doesn't use a specific platform. To accommodate, David will be on my radio show, Hollywood & West Napa on KSVY Sonoma, July 31 at 10 a.m. Pacific (CA). This is where I'll get my answers and the tweeting will come from my on Thursday the 2! If you'd like to tune it, it is streamable from KSVY on their website or via the phone app. Click here for Android, here for iOS.
We will chat all about his use of web video and filmmaking to introduce his friends and clients to community forming people South of the Fraser. He will share his tips and advice with us this August 2 during #ChatSocialGraces! I hope you'll join us!
#ChatSocialGraces happens Thursday, August 2, 1:00 p.m. Pacific Time (CA) on Twitter with @SocialWithCat and David Smith
About our guest: David Smith
What is your profession?
" 'People over property, always.' I build relationships with people, learn their real estate needs, and then help them meet those needs. Anyone with the education and experience can handle the transactional component of real estate, but what separates a good Realtor from a great one is their ability to manage the emotions that are often at play in the purchase and/or sale of a home."
You are known for "The Local." Why do you think video called to you as a form bringing a community together?
"I really wanted to flip the script on the perception that Realtors only care about ourselves, because there are plenty that are genuinely passionate about our respective communities. 'The Local', along with other platforms, has allowed me to become an advocate for other local businesses and non-profits – pointing the camera at them, rather than at myself constantly. As I write this answer, I'm sitting in the new coffee shop down the road from my house, sometimes I've come in here and realized every single person sitting around me found out about it from my Instagram and Facebook – that's a pretty special feeling. I'm not sure I can draw a straight line between this and my own business growing, but frankly I don't really care, it's something I take a lot of pleasure in. "
How has the use of video and social media helped your real estate career?
"Featuring 'property in community' in my listing videos has been a major advantage for my clients, and as a result myself too. With more and more people only able to afford very small spaces to live in, it's absolutely essential to inform them of the shared public spaces beyond their own walls. As a result, every property I sell no matter whether it's a $300k condo or a $1.5m home is marketed using a video that highlights both the property and the community. This strategy has certainly helped me stand out from my Realtor colleagues, although more and more are increasingly doing the same now. As for social media in general, Facebook and Instagram have simply given me the platform to share the real estate journey my clients are on and that I get to participate in. As a relatively newer real estate professional, it was key at the beginning to show I was actually 'doing deals', but now that's been established I tend not to share too many 'just listed/just solds', beyond marketing listings – it's now mostly just community features and sharing stories."
I usually stop at 3 questions, but because we are having a Twitter Chat without him being on Twitter: why don't you use Twitter? (I'm not being snarky with that one. I love to tell realtors that yes, the platform is out there but they absolutely don't have to use it!)
"Totally fair question! When I started 'David Smith Homes' I was active on Facebook, Instagram, Snapchat, and Twitter. This is only my third year in the industry, starting in 2016, that means it's probably safe to say I missed 'peak-Twitter'. I found there was very little genuine engagement, far too much spam, and demographically it was a poor fit. I've since also dropped Snapchat for similar reasons. By focusing exclusively on Facebook and Instagram I've been able to cultivate consistency there and the engagement is legitimately strong."
Check out: The Advocate Agent